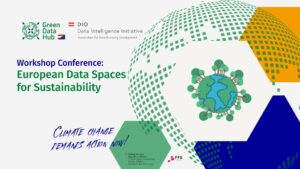 Our goal is to develop solutions that enable collaboration between European markets and across domains in European Data Spaces for Sustainability to fight climate change with data. 
You are essential for the solution to the transition towards a more sustainable data-driven future. Your commitment to using data to change the world into a better one and to counteract climate catastrophe efficiently is necessary.
On February 16th, 2023, the Green Data Hub's Workshop Conference set the course for the enabling international and cross-domain collaboration in European Data Spaces for Sustainability. Top-class experts from business, public administration, research, climate protection and international data ecosystem initiatives discussed, why data is part of the solution we need to achieve the climate goals, how collaboration in a data service ecosystem can contribute to environmental protection, and which key issues need to be tackled most urgently.
Furthermore, three interactive breakout sessions with technical, legal and business experts were held. Data Spaces implementers from the audience discussed the current challenges they face in their practice when collaborating internationally. Thereby, in the course of the Green Data Hub project "International Green Data Spaces (InGDS)", solution approaches can be developed on a technical, legal, and economical level in the form of implementation-focused building blocks, for the benefit of the entire European data community.
Thank you so much for taking part in the online conference and your contribution as well as your commitment!
Below you will find a summary of the individual programme points:
Our thanks goes out especially to all the national and international experts, who presented their topics and took part in our panel talk.